Industrial Touch Panel PC for various industrial applications
available in different CPU variations and sizes with resistive or capactitive touch technology
Touch Panel PCs are very versatile and suitable for various industrial applications. The user-friendly and intuitive operation via touch screen handling compared to traditional PCs with keyboard and mouse is considerably simplified and accelerated. This means that many work processes are much more efficient. This series of Panel PCs are equipped with a resistive or capacitive touch, which are particularly well suited for everyday use in the industrial environment. The Panel PC can be also easily use for industrial automation to Control or monitoring machinery.
All units are equipped with a standard VESA preparation on their back cover to be easily connected with VESA holders for wall mount. Depending on the required performance and applications you can choose between different Touch Panel PCs and processors. Ranging from very compact and fanless Intel Atom processors to the latest Intel Core i7 processors, the range of selectable processor Type is huge. In addition, the modular design allows you to fit many customized features inside, also we can choose some extra I/O to your requirement. To operate the popular operating systems like Windows or Linux are supported in different versions also embedded versions.
Touch Technologies that we use
Depending on the application, you can choose your touch panel PC and touch technology, such as resistive or capacitive touch. Below you found the difference between both technologies.
Resistive touchscreens respond by pressure . The surface consists 2 electrically conductive films which create a electrical field between each other . By pressure to a point, the voltage of this point will be redirected to the lower film . The electrical field detects the pressure point by using an electrical resistance when a user touches the surface.
Capacitive touchscreens ( PCT = Projected Capacitive Touch ) also called PCAP . Capacitive touchscreens determine the position of the touch by changing an electric field on two mutually insulated conductive layers. One layer is assigned as a sensor , the other as a driver . When a finger is located at the intersection of two strips, it changes the capacitance of the capacitor and send a signal to the sensor . The Operation works with no wear on the glass surface, because the sensor is located on the back of the cover glass . This touch technology with multiple touch points can be detected and processed simultaneously . We speak here of " multitouch able "
Touch Panel PC with resistive (5-wire) touch technology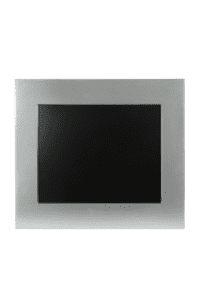 Touch Technology:  resistiv, working by pressure
Application:  Used for all applicationbs by operating with finger, pen, working gloves
Mounting Options: Mountable on machines, niches, walls with VESA holder (vesa mount) or in DIN-Rail cabinets (panel mount)
Safety: IP65 Front
Touch Panel PC with capacitive (PCT) touch technology
Touch Technology: capacitiv, working by changing the electric field on two mutually insulated conductive layers
Applications: Used for all applications by operating with finger, conductive pen or thin gloves
Mounting Options: Mountable on machines, niches, walls with VESA holder (vesa mount) or in DIN-Rail cabinets (panel mount)
Safety: IP65 Front
Rack Mount Touch Panel PC with resistive (5-wire) touch technology
Touch Technology: resistiv, working by pressure
Application: Used for all applicationbs by operating with finger, pen, working gloves
Mounting Options: Mountable in a 19″ Server Rack
Safety: IP65 Front
Full IP65 Touch Panel PC with resistive (5-wire) touch technology
Touch Technology: resistiv, working by pressure
Application: Used for all applicationbs by operating with finger,pen, working gloves
Mounting Options: Mountable on machines, niches, walls with VESA holder (vesa mount)
Safety: Full IP65 incl. I/O (complete safe against water and dust, according to the IP65 declaration)
Full IP65 Touch Panel PC with capacitive (PCT) touch technology
Touch Technology: capacitiv, working by changing the electric field on two mutually insulated conductive layers
Applications: Used for all applications by operating with finger, conductive pen or thin gloves
Mounting Options: Mountable on machines, niches, walls with VESA holder (vesa mount)
Safety: Full IP 65 (complete safe against water and dust, according to the IP65 declaration